Dark Web Monitoring: What Is It and Why Does Your Organization Need It?
According to a 2019 study, 60% of dark web listings- encrypted online content not accessible by conventional web browsers- could potentially harm enterprises.

These listings also consist of leaked customer information, which equals a failure to meet data compliance standards such as the GDPR (General Data Protection Regulation) and HIPAA (Health Insurance Portability and Accountability Act).

Failure to meet these standards could mean a devastating fine. For instance, health insurer Premera Blue Cross was fined a whopping $6.85 million for its 2020 data breach—the second-largest ever HIPAA penalty.

To get ahead, organizations are turning to dark web monitoring services to improve their cybersecurity posture- but what is it exactly?

What is the Dark Web, and How Does it Affect Your Organization?

The internet as you know it has three layers: the surface, the deep, and the dark web.

Surface web is the regular internet most of us use, and represents only 4% of the entire internet.

Next is the deep web, which makes up most of the internet. It's accessible through a regular web browser, only search engines don't index those websites.

Finally, we have the dark web, which accounts for less than 5% of the internet1. Like the deep web, it isn't visible to search engines—however, you can only access the dark web with a specialized browser.

The dark web is known for criminal activities including illicit drug and weapon purchases, counterfeit money, downloadable hacking software, and the sale and purchase of stolen personal information.

This can include information stolen from your company—including sensitive business files and personal identifiable information (PII) of your employees and customers.

How did my Organization's Personal Information end up on the Dark Web?

One of the more popular listings sold on the dark web is the fullz, a comprehensive package of personally identifiable information (PII) that creates a "full picture" of a person.

This typically consists of the individual's name, birth date, Social Security number, billing address with zip code, mother's maiden name, and other sensitive details. Much of this information is typically stolen from businesses' employee and customer databases.

But how did it end up there in the first place?

There are several possibilities. Your company may have suffered a data breach from:

Phishing emails
Malware
Data hacks from vulnerable networks and endpoints in your system
Keylogging
Employees using business credentials on third-party websites


These can be prevented if your organization takes measured steps in reinforcing their cybersecurity posture. However, having a dedicated IT department isn't always enough to prevent or even detect a cybersecurity breach—which is where a dark web monitoring service comes into play.

What is a Dark Web Monitoring (DWM) Service?

A dark web monitoring service will help search and keep track of the information being traded on the dark web related to your employees, customers, or business.

The service scans thousands of websites daily, using a combination of dark web intelligence and threat intelligence for deep insights. If the DWM finds any sensitive information related to your company, you'll be notified immediately.
How does Dark Web Monitoring Protect Your Bottom Line Against Cybercriminals?

Having insight into leaked information on the dark web alerts you to where a data breach may have occurred or could potentially occur. This gives you time to take threat mitigation efforts and contain the breach.

For instance, if you've discovered that the login credentials of your customers have been leaked, you could immediately request for them to update/change their passwords and prevent a further breach on their accounts.

Why is it Crucial for Your Organization to have a Dark Web Monitoring service?

It's not just about getting alerts that your organization's data has been listed on the dark web; DWM also helps get information that your organization—or its subsidiaries—could potentially be under attack.

Think of it like a fly on the wall, with eyes and ears on data relating to your organization. The service also provides quick incidence response and mitigation by comparing risks from unknown sources with that on the dark web.

Why CyGuard® Digital Risk and Dark Web Monitoring?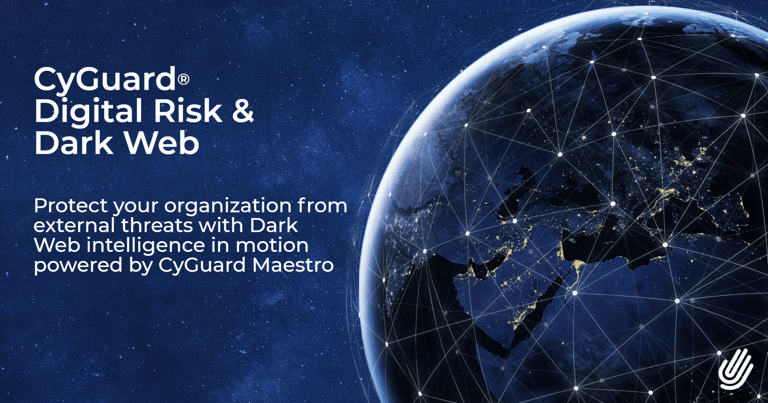 Most organizations that offer dark web services stop at the monitoring level, meaning you'll be left with a list of unactionable data and remediating to perform yourself . With CyGuard® Digital Risk and Dark Web Monitoring, however, we'll provide actionable data to not only mitigate your digital risk but also to manage your threats on the dark web.
Our DWM services goes a level deeper by combining Digital Risk Management (DRM) capabilities, which includes both dark web monitoring and traditional threat intelligence. With DRM, you get the best of both worlds: technical threat intelligence with human direction to give you operational intelligence, allowing you to understand the threat and the risk it presents to your company.

DRM will also help map your organization's digital risk footprint. This is essential as your organization expands, and with it, the network connecting all your organization's branches, subsidiaries, partners, and more.

With CyGuard® Digital Risk and Dark Web Monitoring, you'll benefit from:


Real-time scanning of the deep and dark web for various organizational data
A combination of high confidence dark web intelligence and threat intelligence for deeper insights
The continuous addition of high-value sources to improve dark web visibility
Dark web scanning that empowers SOC resources with automated rules for proactive hunting
Automated identification of your proprietary data on dark web marketplaces
Real-time reporting while providing SOC analysts with actionable insights
Language translation for threat intelligence

With a proactive mindset in approaching cybersecurity threats, you can Get There First™ with the only solution powered by CyGuard Maestro™ and backed by Digital Hands' security analysts.

About Digital Hands

As a new kind of MSSP, Digital Hands is how organizations are getting ahead of the bad guys in a world where compliance alone is no guarantee of protection. Too many companies invest in cybersecurity solutions, follow the recommendations, achieve compliance … and then still get breached. You've got to get to your exposures before the bad guys do.
1 The Dangers of Firewall Misconfigurations and How to Avoid Them; Guardicore
2 How Many Cyber Attacks Happen Per Day in 2022?; Tech Jury
3 2020-2021 HIPAA Violation Cases and Penalties; HIPPA Journal
Let's Map Your Digital Risk Footprint