Why Companies Need Endpoint Detection & Response (and Not Just Enterprise Antivirus)
Malware has never posed a bigger threat to companies. Today, an average of 450,000 new pieces of malware are detected every day1.

As malware grows increasingly sophisticated and prevalent, they undermine the effectiveness of traditional enterprise antivirus software.

Here's why organizations who still rely on traditional antivirus programs are simply not protected from advanced ransomware attacks.

Traditional enterprise antivirus alone just isn't enough
Traditional antivirus blocks known malware by scanning files as they were written to disk—if the file was 'known' to the database, the software blocks the file from executing.

The problem? The malware must be listed in the AV program's database for the AV to act. Without updates, traditional antivirus programs become useless.

That's why traditional antivirus software has become less effective in recent years. Cybercriminals are simply writing new malware faster than vendors can keep up with.

Even if a malware is listed in the AV database, threat actors can simply change the signature on their malware. They create what's called a 'polymorphic malware'—a malicious program that shifts its characteristics to avoid detection.

So how can you best protect your organization today?
Stay ahead of threats with Endpoint Detection & Response (EDR)
For the best security posture and ransomware protection, organizations need a combination of antivirus software and endpoint detection and response (EDR). EDR focuses on detecting threats by collecting data from all endpoints and responding to threats without human intervention.

Here's how EDR better protects against malware compared to traditional AV software.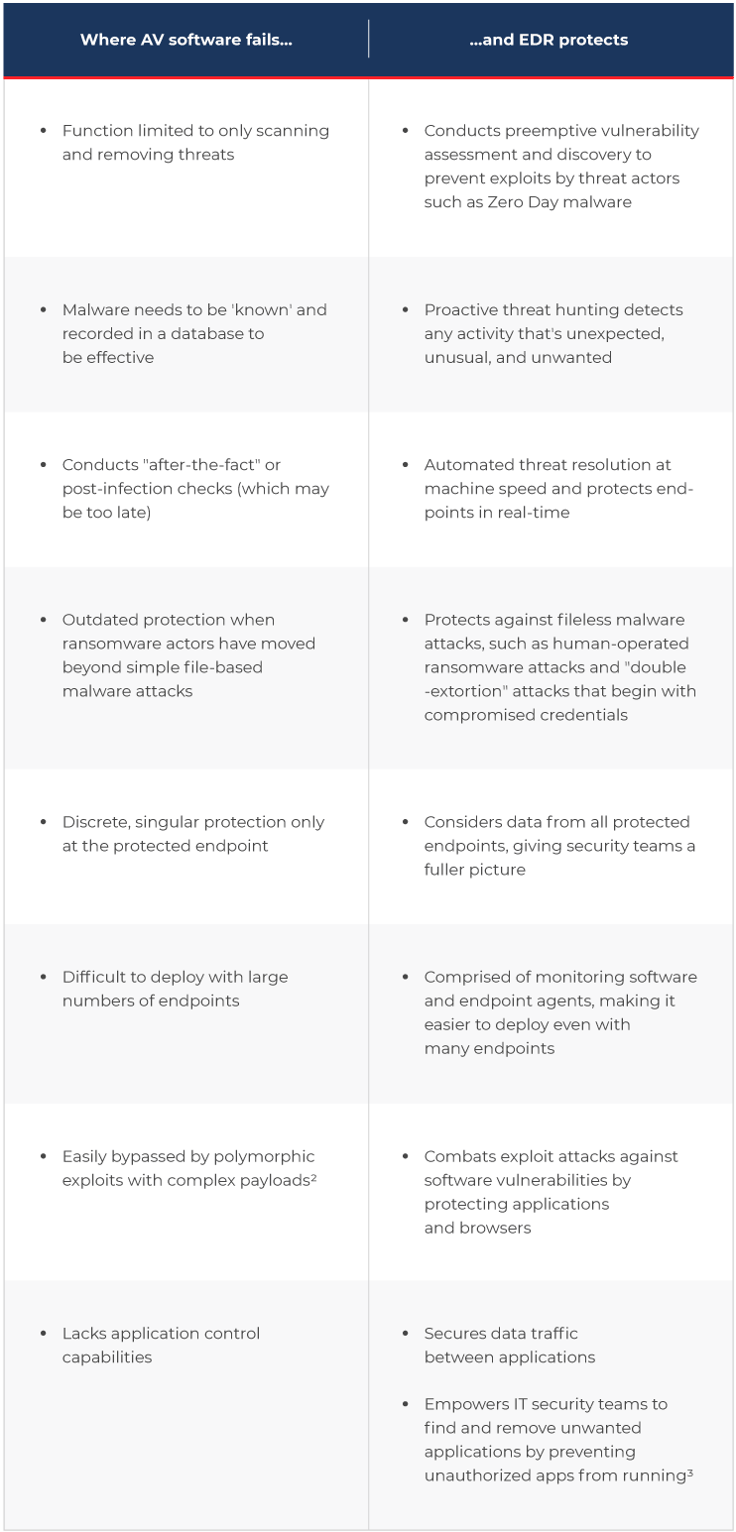 Get There First with a better security solution
Digital Hands' CyGuard EDR featuring Sentinel One delivers superior threat detection and effective split-second response. Get There First with the only solution powered by CyGuard Maestro and backed by Digital Hands security analysts.
Highly adaptable anti-malware security solution
Actionable vulnerable software discovery
Reduced response time and resources
Rapid deployment and implementation
Increased protection from ransomware, Zero Day malware, and exploits
Complete root-cause visibility
Lightens IT analyst load with application hardware control
1Malware Statistics & Trends Report; AV-Test
2What is Exploit Protection; Malwarebytes
3What is Application Control? Defining a Critical Endpoint Security Capability; Solutions Review
About Digital Hands
As a new kind of MSSP, Digital Hands is how organizations are getting ahead of attackers – and doing it in a world where compliance alone is no guarantee of protection. Too many companies invest in cybersecurity solutions, follow the recommendations, achieve compliance … and then still get breached. You've got to get to your exposures before the bad guys do.
To get there first, you need a way to:
See more – because you're working with an innovative partner who's seen it all before and can see what's coming next.
Flex more – because you have a composable security model that lets you adapt to changing needs and evolving threats without having to rip and replace.
Do more – because you have the technology and services that not only tell you what's happening now, but what to do about it, and how to prevent it from happening again.
Only Digital Hands gives you this "See more, Flex more, Do more'' approach. That's why organizations with some of the most sensitive data of all – such as hospitals, financial institutions, law firms, and government agencies – continue to give Digital Hands an industry leading CSAT of 98% year after year after year.
Learn more about Digital Hands' CyGuard EDR or contact us to learn more.